Between the 15th and 19th of January, we ran our first kids holiday training camp for 2018 at CAZA BJJ. As always, the kids had a great time under the watchful eye of their coaches, Yoshi and Erik, with the help of two other adult members, Kezzia and Sam.
These holiday camps are a mix of Brazilian Jiu-Jitsu training and games that the kids love. Fun is an important element when teaching these young masters as a way of offsetting the detail-oriented BJJ techniques that they are learning.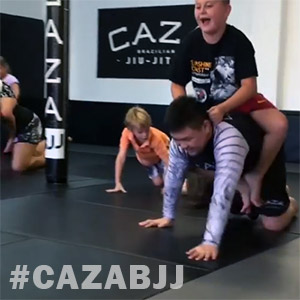 Kids, we'd like to congratulate you. We know you had a lot of fun with your friends here at the gym and you even earned a certificate for completing the week.
Parents, you need to be congratulated too, for bringing the kids down and picking them up every day. There are plenty of other places you could be around Noosa and the Sunshine Coast while we are enjoying such beautiful Summer days.
We think that getting children into having an active lifestyle is important. They will still like to watch T.V. and play games, of course, but a sport such as Brazilian Jiu-Jitsu is an ideal way to get them up and burning off some energy, while also learning a great skill.
These kids are very lucky. There isn't an adult member who hasn't said to themselves "I wish I had started sooner"!
See you back on the mats this week!