When you arrive at CAZA for a free trial ** or first lesson, the process is straightforward. It's goes something like this:
One of the instructors will ask you to fill in a form. This form provides CAZA with your basic information and also serves as a waiver that indemnifies CAZA, as in any other gym. Don't worry, injuries are infrequent and we've never had a serious accident.
An instructor will then get you a gi (uniform) for you to borrow, assuming you don't have your own.
You put your gi on and someone will show you how to tie your belt (don't be embarrassed).
Right on time, we start our class. You will probably come to an introductory level session so be prepared to just follow along.
The class will start with a warm-up. We then get shown a series of techniques to practice with a partner. Finally, we have a little sparring session which in BJJ is called a 'roll' (as in rolling on the mats).
When the class ends, we line up according to rank. White belts are at the back.
The instructor will then go through any news or information that needs to be passed on.
When the instructor says "hands by your side", put your feet together, your hands by your sides and bow.
We shake hands with every person in the class.
That's it!
You don't have to remember all of this. One of the members will be happy to help or answer any questions you may have on the day.
Just try to remember that we don't wear anything on our feet when we walk onto the training mats. This remains true even if you are just watching.
Should I be nervous?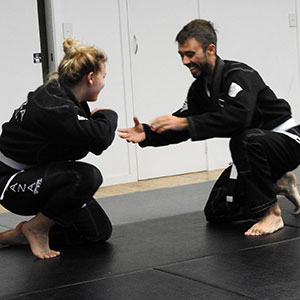 Absolutely not! If you are thinking about trying Brazilian Jiu-Jitsu at CAZA BJJ and are worried, don't be. We have a very friendly bunch of instructors and students and there is no macho or ego.
CAZA is also attracting an ever-growing number of female members, which is always a good sign in a martial arts gym. While men and women train together in the adult classes (women's only classes excluded, of course), you are welcome to practice with the same sex only if you prefer.
People tend to love our classes so much, that most of our new member sign-ups happen upon completion of trial lessons. From that moment on, you become part of the CAZA BJJ family!
Do I only get one trial lesson?
While we offer one free trial ** lesson, you may want more time to decide if you should sign up as a full member of CAZA. This is where a ten-lesson pass can be very useful.
A ten lesson pass will allow you to come down for more lessons and provide an opportunity to meet more of our team. You will have a good idea of what you want to do after that.
Try the free lesson first…. but we think you'll be hooked right away!
Ready to give Brazilian Jiu-Jitsu a go?
Awesome! We can't wait to have you walk through the door and join us.
You can contact us to arrange a trial. The class timetable will show you the times we run our training sessions. If you are new to BJJ, try to attend a white belts only class for your trial.
OSS! (Yeah, you'll learn what that means too :p )