CAZA Brazilian Jiu-Jitsu in Caloundra conducted the last grading ceremony for 2021 on Saturday 27th of November. Limited available dates meant a December grading wasn't ideal this year, so things were moved forward a couple of weeks.
This grading day also doubled as a celebration of the first year of being in business for our Caloundra gym. Coach Andrew Bailey has worked hard to build his membership over the past twelve months and now has a core of founding members ready to take the gym forward.
Coach Andrew Bailey promoted to third-degree black belt
When someone becomes a Brazilian Jiu-Jitsu black belt, they then look forward to many more years of hard work. You almost need a calculator to work out how old you will be for your next promotions.
Here is how promotions work for a BJJ black belt:
After 3 years at black belt, you become a first-degree black belt.
The next two degrees are also 3 years apart. From there, the wait gets longer…
The next three degrees are spaced 5 years apart – another 15 years total.
We won't even get into the first coral belt (it's another 7 years)…
Summary: it's at least 31 years AT BLACK BELT before someone gets a different coloured belt – a black and red coral belt!
At this grading Coach Bailey was presented with his third degree (a minimum of 9 years as a black belt) by CAZA head coach Yoshi Hasegawa. This represents an incredible length of time to remain dedicated to a very tough sport.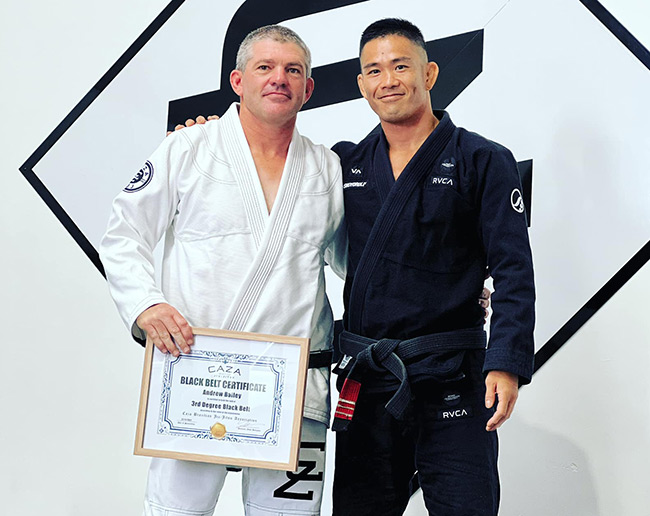 Andrew Bailey & Yoshi Hasegawa
Congratulations certainly go to Coach Bailey! CAZA is lucky to have him as part of our amazing team.
Kiera-Lee Botfield made purple belt
The only colour belt grading on the day was Kiera-Lee Botfield getting her purple belt. Kiera-Lee has a serious BJJ work ethic and fully deserves this promotion.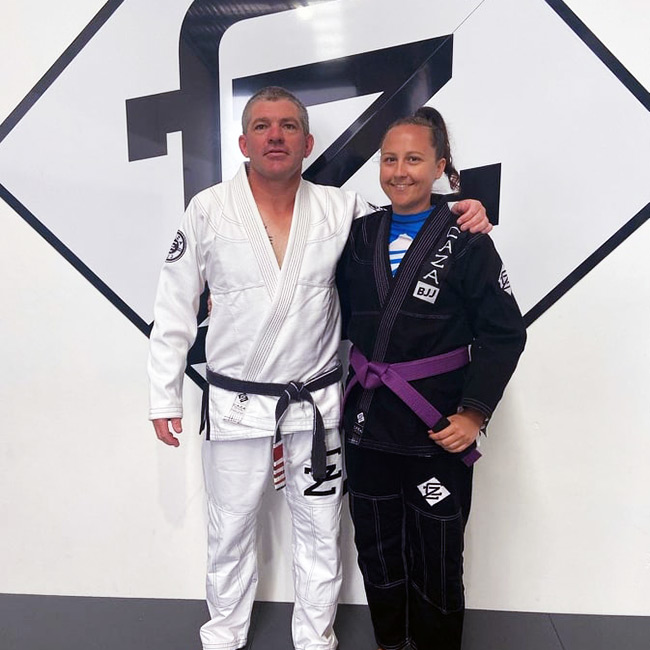 Coach Andrew Bailey & Kiera-Lee Botfield
Kiera-Lee has also competed in MMA where the courage of its participants is beyond question. Anyone who steps into the octagon deserves respect just for showing up. We can wait to see this fierce competitor on the BJJ competition mats in a CAZA gi too!
Well done Kiera-Lee!