CAZA BJJ Noosa finished 2021 on a real high with a couplemore black belts being added to our ranks. This provided a very positive end to our 5th year here at CAZA headquarters and we are grateful to all of our members and their families for being a part of it.
Grading ceremonies are an important part of any Brazilian Jiu-Jitsu club so we thank everyone who made it to this ceremony. Even when you are fairly certain that you are not likely to be promoted, your presence helps us celebrate with those who are receiving their next belt.
Black belts
As mentioned above, there were two members promoted to black belt this time around. If you only train at night classes you would be for forgiven for wondering who they are since both men are more likely to be seen at morning or lunchtime classes. Rest assured, these two are well deserving recipients of this honour.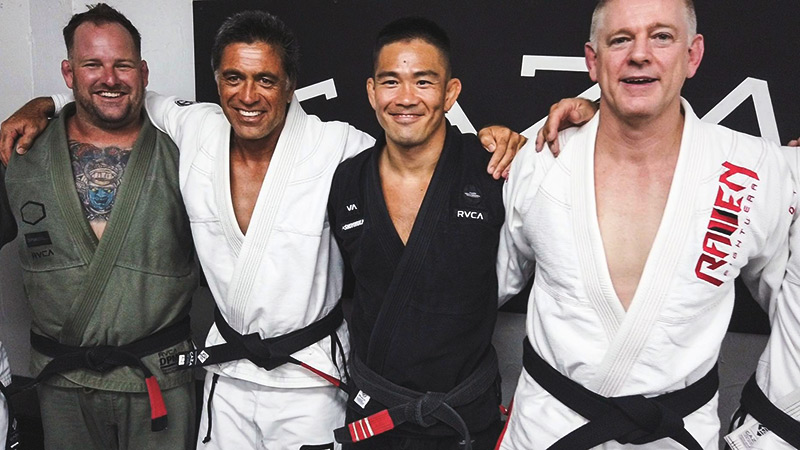 Cheyne Douglas, Woogie Marsh, Yoshi Hasegawa & Dan Rudledge
As with the other CAZA black belts training at our Noosa gym, Woogie and Dan have trained with Yoshi for a long time. Longer than CAZA has been a club. They have put in years of hard training and accumulated a wealth of Brazilian Jiu-Jitsu knowledge which they are happy to share.
Both Woogie and Dan have sons that also train with CAZA. We love when families join our team and share in their passion for BJJ with the extended CAZA family.
Congratulations guys, it has been a long time coming. You have earned your black belt from a coach that does not bestow them upon anyone easily.
Brown belts
We had four new brown belts added to our ranks at this grading day. Again, these guys are long-term students of the sport and well respected for their skills on the mat. Ronaldo, Matt, Luca and Bruce won't surprise anyone with their new promotion.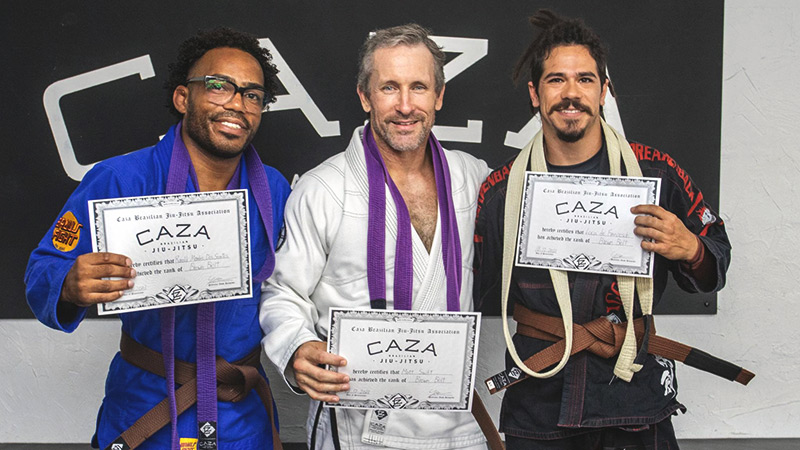 Ronaldo Dos Santos Mendes, Matt Swift & Luca de Franceschi
(Bruce Britton not present here)
Brown belt is one not easily attained. By the time you are eligible you have been training for many years, have probably endured numerous injuries of varying degree and have most likely developed some fairly unattractive ears.
These four guys are not only role models on the mat but are also excellent club ambassadors. We are certainly glad to have them in our club.
Those of you who attended our short IBJJF rules seminar will remember that Ronaldo taught the class. He is a regular competitor and referee on the Queensland Brazilian Jiu-Jitsu Circuit which adds to the depth of our club.
Well done gentlemen, you now stare down the illusive black belt. Continue to enjoy the ride!
Purple belts
We had two new purple belts awarded at this ceremony to a couple of guys who have put in quite a few years now as CAZA members. Both have competed for CAZA too, and done so with distinction.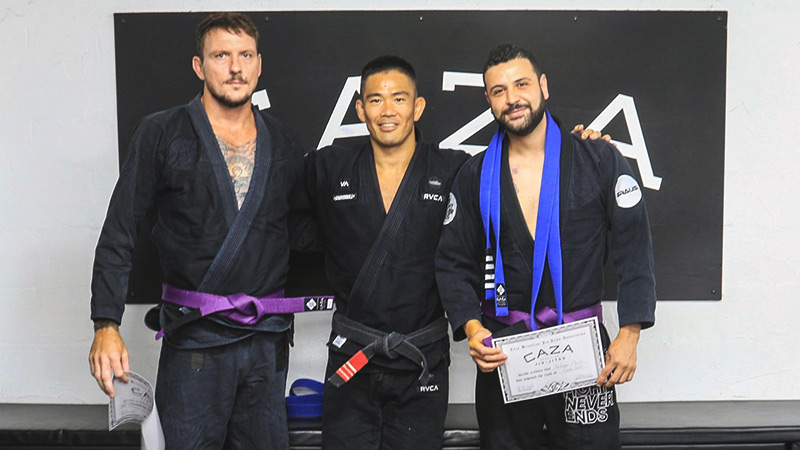 Ross Howe, Yoshi Hasegawa & Shahram Nassri
Purple belt is a rank where people tend to have a game plan developing beyond the basics. Most CAZA blue belts are already working on their own style, but purple belt is where it starts to really crystallise. Ross and Shahram are a handful on the mat as a result and both are genuinely nice guys, although Ross can be hard to get a word out of sometimes 🙂
We are so pleased for these two and certain they will go on to brown belt in due course.
Blue belts
Yoshi promoted eight members to blue belt at this grading, all of whom have demonstrated they are ready for their first colour belt. Given the high level of BJJ at CAZA, demonstrating that you are ready to put away your white belt for good is a significant milestone.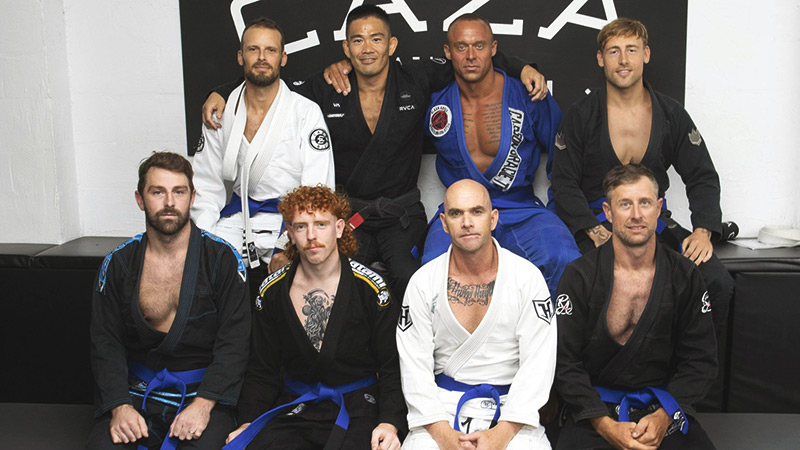 Leigh Pleydell, Yoshi Hasegawa, Torben Stougaard, Max Weston,
Michael Agnew, Beau Saywell-Scholes, Sean Lanigan and Scott Sharpe
(Mizuki Nagai not present here)
These guys now start the long road toward purple belt. Assuming they can avoid the 'blue belt blues' and stay healthy, we are sure that it is only a matter of time before they step up yet another level.
Congratulations on your first colour belt, but keep the momentum going. The coaches are watching.
Grey-white belt
Lastly, there was one grey-white belt awarded to Eva Marie Flynn. Eva is the daughter of CAZA black belt and coach Andy Flynn. Eva joined CAZA through our women's only classes, but is now a regular at our other classes too.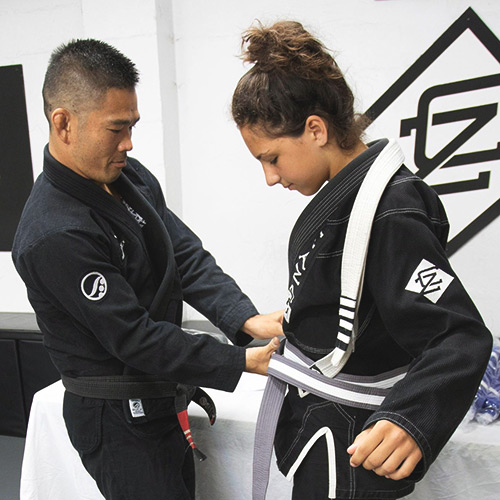 Eva Marie Flynn
Eva is lucky enough to have youth on her side while learning BJJ from some excellent coaches. By the time she is old enough to attain adult ranks she will be quite well versed in her understanding of Brazilian Jiu-Jitsu.
Congratulations Eva!
Looking forward to 2022
Our new BJJ timetable for 2022 will start on January 10th, when regular classes resume. There are several new adult classes and some changes to existing classes that you should make yourself aware of. The number of classes available per week is extensive here at CAZA BJJ in Noosa, so please support the coaches of these classes by attending where possible.
With any luck the QBJJC tournaments will return to full capacity in 2022 with crowds being allowed to attend unrestrained as they did before the COVID outbreak. CAZA's competition team gets stronger and more successful every year, and you can be a part of it.
Thanks for a great 2021!