A small team of CAZA Brazilian Jiu-Jitsu members travelled down to West Ormiston to compete at this year's QBJJC East Coast Championship on Sunday. While only a small competition, it was great to see our men's team taking out first place in the male ranking division by 24 points.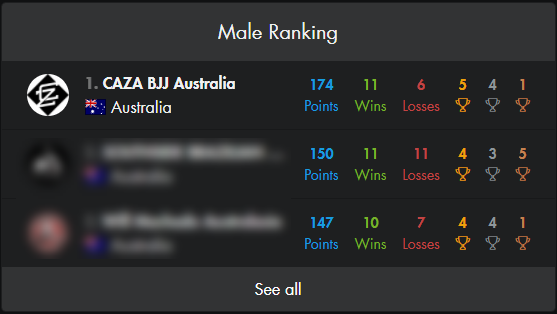 CAZA wins 22 medals overall
While the men's team secured 10 medals on their way to winning their division, our women's and kid's teams were also winning medals and climbing up onto the podium. Overall CAZA BJJ won 22 medals including 9 gold, 9 silver and 4 bronze.
Our gold medallists were:
Eva-Marie Flynn (kids)
Daniel Svoboda x 2 (kids)
Archie Roberston (kids)
Michael Agnew (adult's)
Ronaldo Dos Mendes Santos (adults)
Sam Morrison x 2 (adults)
Toby Parsons (adults)
Yoshi was pleased with the performances of all of our competitors on Sunday. For our coaches it is just as important to see the development of our student's skills as it is for the team to win trophies and medals. Competition experience adds an exciting dimension to your Brazilian Jiu-Jitsu learning curve.
Individual results
If you would like to see the individual results for our competitors, do the following:
Visit this link https://afbjj.smoothcomp.com/en/event/5569/results
Enter 'caza' in the 'Academy name' field.
Click search.
Last competition for 2021 coming up!
The last QBJJC competition for 2021 will be the Gold Coast Championship on Sunday 28th of November. If you are thinking about competing then let your coaches know, and don't forget to book early to save on registration fees.
This will be a great opportunity to finish the year on a really positive note. Still, even if you aren't going to compete, you can help those who are by being a good training partner when sparring with competitors.