Back in 2007, a bunch of young Brazilian Jiu-Jitsu athletes came together to prepare for the ADCC Championship. They were part of the Brasa team, one of the best at the time, coached by Leo Vieira (founder of Checkmate BJJ).
The Brasa team training camp was similar to what pros go through today when preparing for the biggest tournaments. It is hardcore. Every person on the team is a real talent so rolling with them demands that you bring your 'A' game, every single day and in every single round.
Before we mention them by name, see if you can recognise them: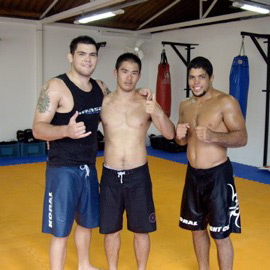 You probably knew who you were looking at right away, right? Robert Drysdale (Insta robertdrysdalejj) now with Zenith BJJ, Yoshinori Hasegawa (Insta yoshibjj) head coach of CAZA BJJ and Andre Galvao (Insta galvaobjj) head coach of ATOS BJJ.
When the photo above was taken at one of the Brasa team training sessions, CAZA's owner and head instructor Yoshi was still a purple belt.
Twelve years later and these guys are still deeply involved in the global BJJ community and ambassadors for Brazilian Jiu-Jitsu. They are all well established black belts now, yet remain as hungry as ever to learn and to teach others what they have learned about this sport we love.
The key to getting where they are? Dedication, sacrifice and pure will to succeed, whatever the cost.
There are many Brazilian Jiu-Jitsu black belts in the world now. There will be many more. Yet there will always remain a divide between those who are hobbyists and those who push themselves every day to be the very best they can be. These are the true champions. They don't ever relax and they are never satisfied with what they have already achieved.
If you must choose someone to guide you on your own BJJ journey, look for coaches similar to these three guys. Learn from someone who lives a breathes BJJ every day. Roll with them – you will feel the difference.
If at all possible, find a coach who has competed at a high level and teaches because they love Brazilian Jiu-Jitsu, not just because it is a business.