Last Sunday CAZA Brazilian Jiu-Jitsu's competition team achieved another fantastic result at the 2019 Sunshine Coast Championship. Given that CAZA is a fully independent gym, with no franchises to call upon to boost competitor numbers, an overall third place is a great result.
CAZA's results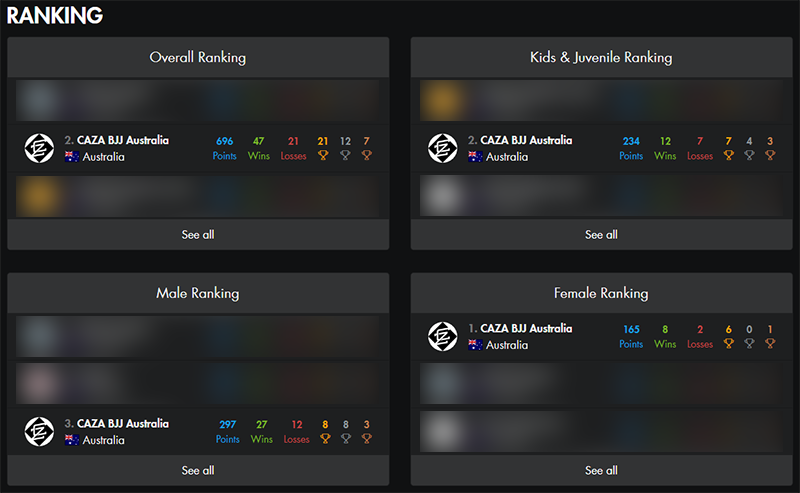 Our medal tally for this tournament:
27 Gold
12 Silver
8 Bronze
The overall club result was in part thanks to a revitalised women's team which finished first. Amy, Laila and Jemima (her first comp) all stood atop of the podium, securing a bunch of team points for CAZA.
The men's team finished third which is something to be very proud of given the number of competitors some franchised gyms were able to enter into the competition. It was also a proud day for head coach Yoshi Hasegawa with a number of CAZA's male members competiting for the first time.
The CAZA kid's team secured second place thanks to some awesome performances by the boys and girls in our junior squad. The level of Brazilian Jiu-Jitsu demonstrated by these kids was incredible. They somehow manage to mix technical ability with a level of maturity that never ceases to amaze. If anyone ever needs proof that BJJ lifts the confidence of children, they only need to watch one of these tournaments to see how effective it is.
The real benefit of competing
Everyone in the Brazilian Jiu-Jitsu community wants to do well at tournaments, of course. But the real benefits become apparent back at your gym during subsequent training sessions. We can't help but reflect on our competition rolls. It forces an evaluation of our whole approach to the sport and what we can do to improve.
Long after everyone has forgotten the results of any particular tournament, the lingering effect of competing is the boost to your BJJ skill level. This is what pushes us forward. Don't dwell on your wins or loses beyond what they teach you about your BJJ game.
Momentum is high for the QLD State Championships
Having 34 competitors at the Sunshine Coast Championship has helped us build CAZA's momentum for the state championships which are coming up on June 16th. This is the biggest BJJ tournament in the state and for the serious competitors, the event that offers the most points without having to leave the state.
The 2019 Queensland State Championship will be held on the Gold Coast. This is a two-and-a-half hour drive from our home town here in Noosa. Still, we always have a big team and a bunch of supporters making the trip down the coast to represent and support CAZA.
While CAZA BJJ is still a small (yet fast growing) club, the state titles give us a chance to demonstrate that with a skilled head instructor leading your team, anything is possible.
If you are looking to compete for CAZA, ask about joining the comp team training session on Tuesday nights. It's tough, but you will go into tournaments kowing you are ready.