Thinking about competing in one (or more) of the Queensland Brazilian Jiu-Jitsu Circuit tournaments in 2018? Then you will be pleased to see the interim schedule, which has just been released.
We plan to attend even more tournaments this year with bigger adults and kids teams. As a relatively new team here on the Sunshine Coast, CAZA is a currently smaller than many of the gyms we compete against. However, we tend to do very well at all ranks and age groups.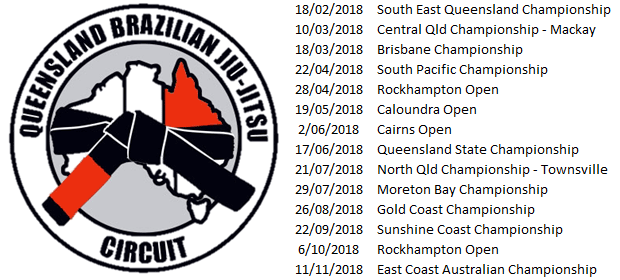 Do I have to compete?
Of course not. Not everyone trains in BJJ to compete; that's fine. Each of us has our own goals and reasons for being part of this great sport.
Nobody at CAZA will ever pressure you to enter a tournament.
What are the requirements for competing in Queensland?
If you have never competed in a Brazilian Jiu-Jitsu tournament in Australia, the first thing you need to do is register with The Federation of Brasilian Jiu Jitsu (Australia). This also allows you to compete at IBJJF International events (if you are really keen).
During the registration process, you will be asked which BJJ gym you are affiliated with. CAZA BJJ is registered, so you can select our name as the answer. If you are ever asked for your professor's name, it is Yoshi Hasegawa, of course.
Once you have a membership, you simply register for a tournament as and when they come up. Registration tends to open a few weeks in advance of a tournament date.
Rules and code of conduct
There is a set of rules and a code of conduct to be followed and respected by competitors. Please make sure you know them prior to competing. Failure to abide by them will hurt both your own and CAZA's reputation within the Australian BJJ community and can result in bans from future events.
Still got questions?
If in doubt, ask Yoshi, Cheyne or Erik for clarification. Additionally, nearly all of our adult members have competed at one time or another, so ask around. We have a lot of experience amongst our members.