Today our CAZA kids had their last grading day for 2017. Congratulations to the entire kid's team and CAZA instructors Erik Kallen and Yoshi Hasegawa, on a fantastic year.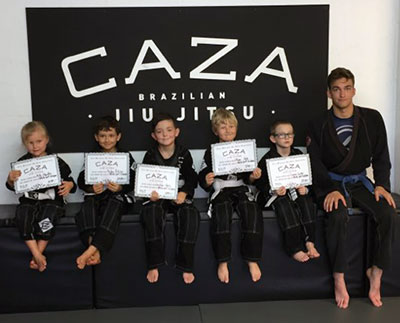 Children never fail to amaze us when it comes to Brazilian Jiu-Jitsu. Sometimes you wonder if they are really taking it all in and if they can implement what they are being shown without help from an instructor. But watch them in a tournament and any doubt is put to rest. Kids are willing to try an incredible range of sweeps and submissions, and their continual transitions are mind-blowing.
Erik and Yoshi work hard to not only teach the kids excellent BJJ but to also to keep it fun. The school holiday camps are always popular and you only have to look at the videos that Yoshi posts via Caza's Instagram account to see how much fun they have in a safe, supervised environment.
Kids respond very well to a Brazilian Jiu-Jitsu rank promotion as it's a great point of pride when you get to wear a new belt colour. Trust us kids, that feeling never wears off and it is just as exciting for the adults!
Get your kids involved
If you would like to get your kids involved in Brazilian Jiu-Jitsu and can attend classes here in Noosa Junction (on the Sunshine Coast), get in contact with us.
Trial lessons can be arranged free of charge. You can also arrange to just come and watch if you'd like to get a feel for our gym or the classes first.
You can find the kids timetable here.