On Saturday 8th of February, CAZA BJJ's Daniel Svoboda competed at the 2020 Pan Kids IBJJF Jiu-Jitsu Championship in Los Angeles. This is one of the biggest Brazilian Jiu-Jitsu events in the world for kids and a showcase for the sport's future stars.
If you follow the CAZA Facebook page or CAZA Instagram account then you will have already seen some of the pre-tournament training videos. These videos were uploaded by CAZA head coach Yoshi Hasegawa who travelled over to L.A. with Daniel. This is the first time that a CAZA kids team member has competed at the world level so Yoshi wanted to be there to coach him.
The video shows Daniel getting some 'last minute' training with
Professor Ricardo 'Rey' Diogo
, Yoshi's own coach. This is an amazing privilege in its own right! Rey is very passionate about BJJ and his enthusiasm resonates with anyone lucky enough to train with him.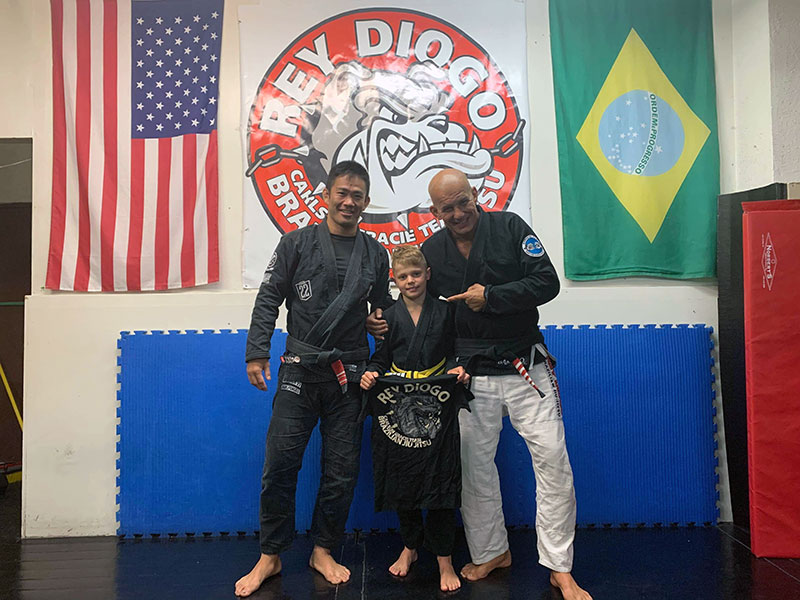 Daniel will never forget this experience. Imagine being his age and getting the opportunity to train with not only Yoshi but also his coach and BJJ legend Rey Diogo. Incredible.
Daniel Wins Silver
On his way to the final, Daniel won three fights. While we are all very proud of him for securing silver, he is a little disappointed in the result. Daniel trains hard and enters tournaments with the hope and expectation of winning gold. His disappointment is therefore understandable as it is a sign of his intense hunger to win.
Daniel's results:
Round 1 – win by submission (armbar).
Round 2 – win by points.
Semi-Final – win by points.
Final – loss by points.
Coach Yoshi says that the final was very close and that the result could easily have gone the other way. Ultimately, however, Daniel's opponent did just enough to secure a 2 point lead and finish ahead as time ran out. That's Jiu-jitsu.
Keep moving forward
Daniel will no doubt be eager to get back to Australia and start his assault on the Queensland Brazilian Jiu-Jitsu Circuit 2020 season. He misses the first tournament as he won't be back from L.A. in time, but that won't stop him. He'll be scooping up medals and season points in no time with a renewed drive for getting to the top of the podium.
Congratulations Daniel! This is a huge achievement and one that you can use as motivation going forward. Your best is yet to come.