CAZA BJJ's competition team secured another excellent result yesterday by finishing 3rd overall at the 2022 QBJJC Gold Coast Open. For most of our competitors it is a two and a half hour drive just to get to this event so it is somewhat surprising that we had enough entrants to be so competitive.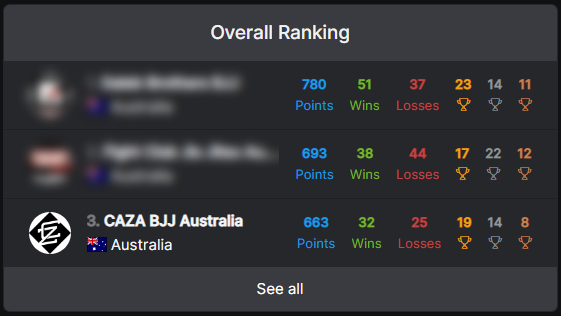 CAZA's kids team get the ball rolling
Our day got off to brilliant start with our kid's team winning medals almost immediately. Ultimately our kid's finished 1st in their team event by winning 17 gold, 10 silver and 7 bronze medals. This has become a familiar pattern for the CAZA BJJ team wherever this young crew compete.
For some of the kids it was their first tournament rolling for CAZA so we'd like to both congratulate and officially welcome them to our competition team!
Several adults got after it too
While the kids earned the bulk of our overall points, there were several adult CAZA BJJ die-hards who made the trip down to the Gold Coast to compete.
Our adults (men's and women's) won 2 gold and 4 silver medals.
Three of our adult entrants, Toby Parsons, Vegas'Latina Castle (technically in the juvenile bracket) and Jyssica Lian are regular Brazilian Jiu-Jitsu competitors. But we also had Liberty Williams-Castle competing for the first time at white belt. Liberty is Vegas' mum. After watching her daughter do so well over the years, Liberty wanted to experience BJJ competition for herself. CAZA head coach Yoshi Hasegawa was very proud of Liberty's first time performance and thinks there could be lioness hiding somewhere inside this otherwise reserved team member.
Individual results
If you would like to see the individual results for all of our competitors, do the following:
Visit this link https://afbjj.smoothcomp.com/en/event/7807/results
Enter 'caza' in the 'Academy name' field.
Click search.