The CAZA BJJ competition team added to our growing trophy display after securing another top of the podium result at the 2022 Sunshine Coast Open on Sunday. This is the second of two QBJJC Sunshine Coast Brazilian Jiu-Jitsu events each year.
CAZA wins 3 of the 4 team events
The CAZA team did an amazing job, winning the overall ranking event. Along the way we won the men's and the kid's/juvenile events too. None of our female members were competing this weekend so you'll forgive us for not placing highly in that event also.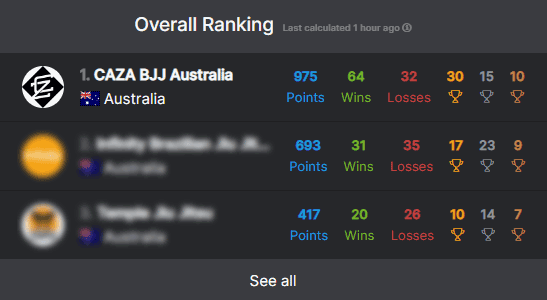 Our kids team got us off to a great start as they so often do, scooping up dozens of medals in both the gi and non gi competitions. Our men's team kept the ball rolling, adding another eight gold medals to our tally despite having relatively few entrants.
Well done to everyone who competed, regardless of where you placed. And thanks, as always, goes to our supporters who came along to encourage our team.
Let's go 'one-leg', heyooooo!
If you weren't there to cheer our team on you missed something a bit special. With what may be the fastest submission of the day (6 seconds), Jed Gray, lovingly referred to as 'one-leg' by his coaches, made an inspiring return to competition with a lightening fast win via wrist lock.
Unfortunately for Jed's opponent, a nice guy named Brenton Roach, his wrist was badly broken by this submission. You can see how fast it can happen, so always be careful when using wrist locks, even in training. We hope Brenton makes a fast and full recovery.
Here is the (very short) video:
Jed has undoubtedly changed a lot of people's perceptions about what can be achieved if you can put your excuses aside and just get on with it.
Individual results
If you would like to see the individual results for all of our competitors, do the following:
Visit this link https://afbjj.smoothcomp.com/en/event/8177/results
Enter 'caza' in the 'Academy name' field.
Click search.