From October 26th to the 28th of October the 2018 Brazilian Jiu-jitsu Pan Pacific Championships will be held in Melbourne. This is the biggest BJJ tournament in Australia this year and the only event that has the highest possible, 6-star rating. The event is sanctioned by the International Brazilian Jiu-jitsu Foundation (IBJJF); the sport's governing body.
CAZA BJJ would like to send two of our most successful kids team members to compete and we are asking for donations to get them there.
The costs that we need to cover include flights, accommodation, transfers, tournament entry fees and a handful of small auxiliary costs. We would also like to cover the costs for a parent of each boy as much as possible. This is a huge experience away from home for kids of just 8 and 10 years of age and so a parent's presence would be needed.
Who are CAZA's two competitors?
The two boys that we would like to get sponsored this year are Isaiah Thinee and Daniel Svoboda.
Isaiah Thinee
Isaiah has been training in Brazilian Jiu-jitsu for 6 years. Given that he is still just 11, it is proof of his commitment towards making BJJ a big part of his future. He is the current Queensland overall champion and he has held this title for the past two years.
It appears Isaiah has a huge future in this sport and we want to ensure that he gets every chance to compete at the highest levels.
Daniel Svoboda
Daniel is also hugely successful on the Queensland Brazilian Jiu-jitsu circuit with numerous tournament wins to his name already. Daniel competes in different divisions to Isaiah because age is taken into consideration in kids tournaments.
At just 8 years of age, Daniel has already fought older and heavier opponents just to find more competitive matches. CAZA's head coach, Yoshi Hasegawa, believes Daniel is now ready to attempt a run at a Pan-Pacs title.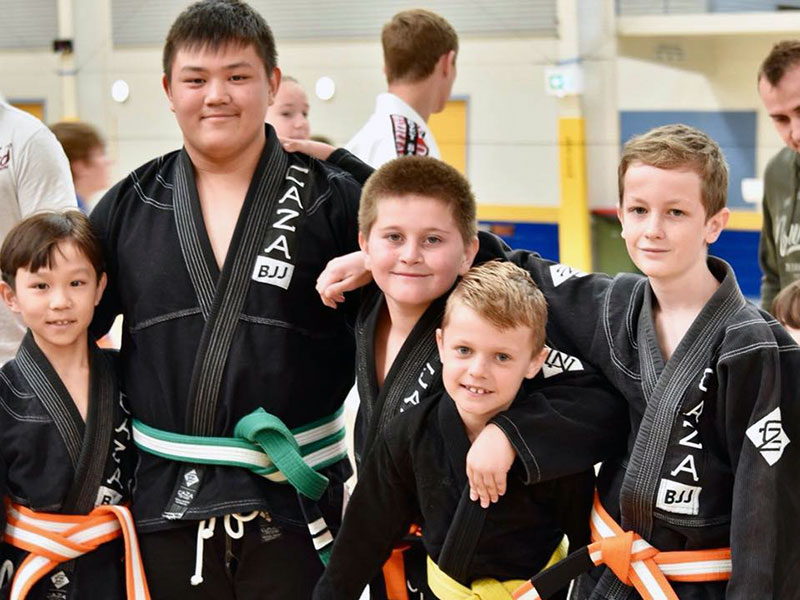 How to donate
There are currently six places in the Noosa area where you can drop off donations. Look for the collection cans near customer checkouts or simply ask a staff member.
Donation locations include:
CAZA BJJ Gym (that's us)
153 Cooyar Street, Noosa Heads 4567
Pardons Fruit Shop & Café (next door to the CAZA gym)
Liquorland Bottle Shop (below the CAZA gym)
The Drop Café (Noosa Heads)
Office Choice Newsagents & Stationers
Poinciana Avenue, Tewantin
Blue Plum Japanese Food Wholesalers
Rene Street, Noosaville
Stay tuned for their results!
We will be reporting on how the boys went as soon as the event ends. The best way to stay in touch with all things CAZA, including this tournament's results, is to keep an eye on any of the following:
Any support you can offer will be appreciated by the boys and their families. They are genuinely great kids and take competition very seriously. Let's help them bring a Pan-Pacs title back to the Sunshine Coast!