Saturday 12th of June was a big day for CAZA Brazilian Jiu-Jitsu here in Noosa with head coach Yoshi Hasegawa promoting three members to black belt. While this was certainly the highlight of the day, new blue, purple and brown belts were also awarded to those ready to go to the next level.
So who was promoted? Let's take a look…
New Black belts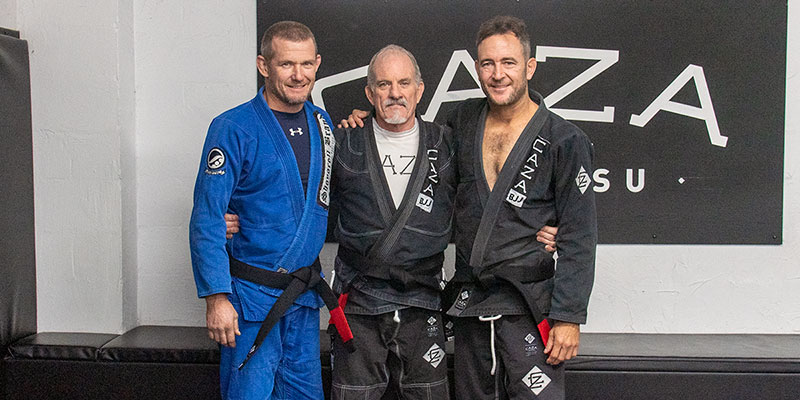 Brady Jansen, Steve Kelly & Bill Sykes
These three guys have been training with Yoshi for a long time, and their promotion won't surprise anyone who has rolled with them. Not only have they proven their skill level, but they are also genuinely nice guys who serve as excellent role models.
The effort required to attain the rank of black belt can't be underestimated, especially when awarded by a professor of Yoshi's calibre.
Brady, Steve and Bill are not the sort of people to sit back and assume they have now reached the pinnacle of the sport. You can be sure they will be more than willing to justify their promotions every time they roll. Approach with caution!
New Brown belts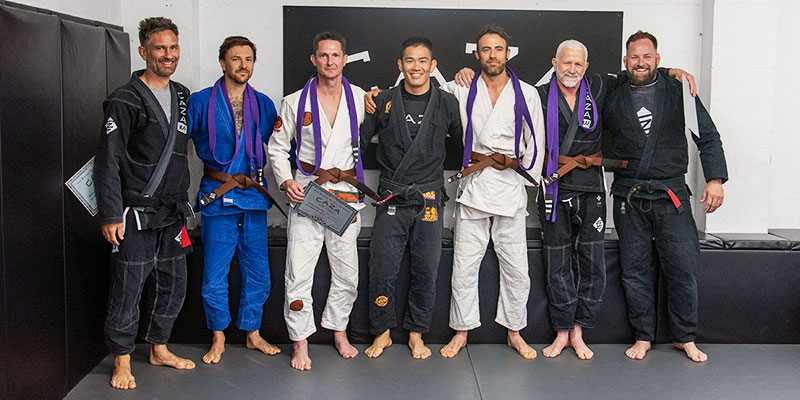 Andy Flynn (black belt), Wayne Celeban, Mark Edwards, Yoshi Hasegawa (black belt), Andrew Sellman, Craig Smith and Cheyne Douglas (black belt).
These four brown belts also trained under Yoshi long before CAZA opened here in Noosa Heads. Each carries the war wounds to prove it.
Brown belt is a serious rank that requires significant dedication and patience to reach. But with it comes new expectations, so we wish these guys well as they progress towards black belt.
New Purple Belts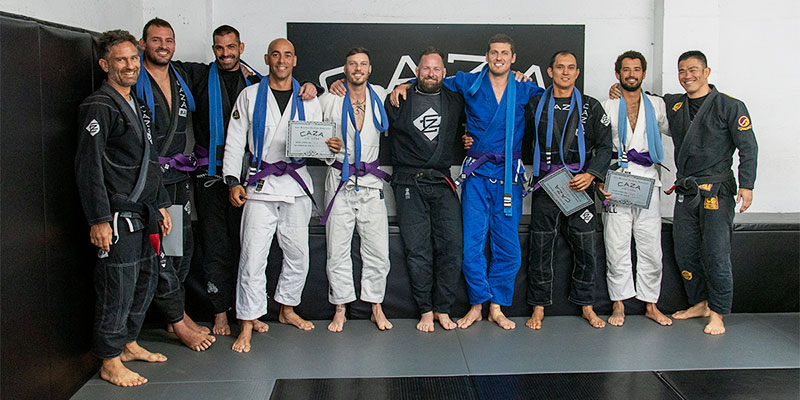 Andy Flynn (black belt), James Howard Clarke, Preston Toole, Fabricio Cunha, Luke Danton, Cheyne Douglas (black belt), George Howland, Alfie Patinja, Alexandre Rahal and Yoshi Hasegawa (black belt).
As Professor Yoshi said on the day, at purple belt you are starting to iron out your own personal strategy on the mats. You have a game plan developing and are exploring what works best for you. This may be the reason why many black belts claim that purple belt was their favourite rank to train at.
From purple belt it gets serious. Working towards a brown belt requires a real commitment where broadening your technical skill and game plan when sparring higher belts becomes paramount. We are certain that these guys are up to the task and are excited to watch them grow as they continue on their path towards black belt.
New Blue Belts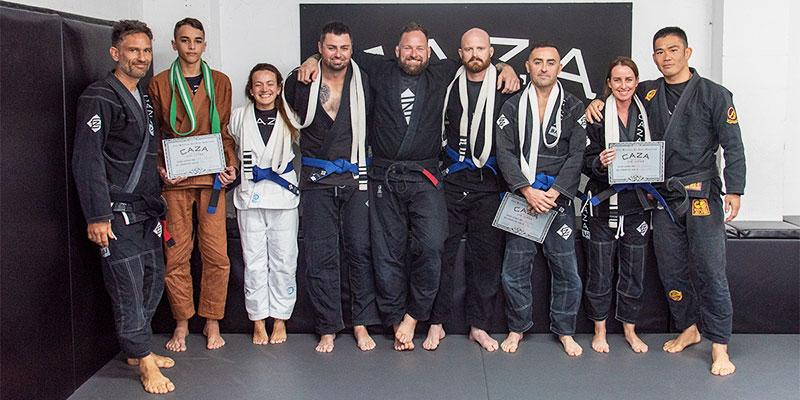 Andrew Flynn (black belt), Ethan Rodrigues, Catherine Molini, Anthony Zipf, Cheyne Douglas (black belt), Rohan Shepherd, Gary Medley, Vicky Edwards and Yoshi Hasegawa (black belt).
It is exciting to be promoted to your first colour belt and this bunch have certainly done what it takes to earn their promotion. Each is enthusiastic about BJJ and shows up every week with the right attitude towards training.
It is not unusual to feel like a target has been placed on your back when you first get your blue belt. The white belts are that much more interested in submitting you and the existing colours belts immediately push you harder in sparring. It's a great challenge and serves to push you forward.
The grind continues
Grading ceremonies are fantastic for team morale and something we all look forward to. But now the grind continues. We are still only halfway through to competition season so there is plenty to work towards in the short term.
Of course, you don't ever have to compete to be part of our club. Your Brazilian Jiu-Jitsu (dare we say it) 'journey' is yours to create.
So, congratulations go to these members. The CAZA team is growing all the time and these colour belts will be integral in helping new members become part of the CAZA BJJ family.