CAZA BJJ is delighted to announce that we have two new number one ranked competitors – Ronaldo Mendes Dos Santos and Dean M!
Dean is the Australian national number one ranked blue belt (masters) in no-gi. Ronaldo is the number one ranked in Queensland blue belt (masters) in gi.
Here's the proof: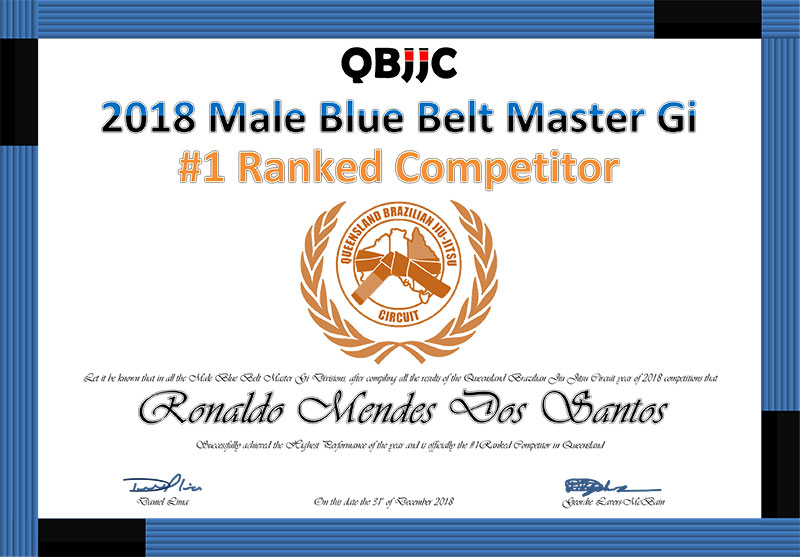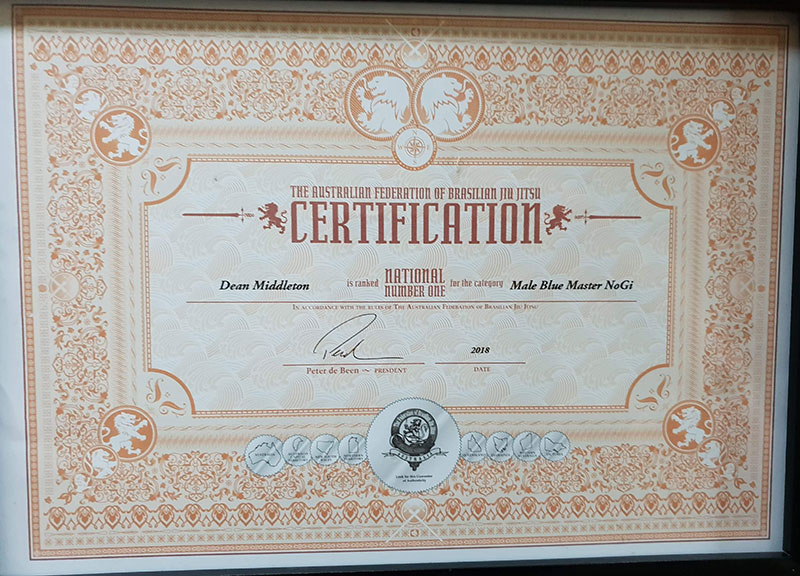 Well done boys! You fully deserve this recognition. However, if Yoshi offers you a hug, refuse. You know what a 3rd-degree black belt's hug is like; they get double underhooks, they…. it never ends well 🙂
What it takes to be number one
Being number one ranked means that you accumulated more points than any other competitor in your division.
Points are awarded for finishing first, second or third at a tournament. These points are then multiplied by the star ranking for the event. A regional competition may be only a one or two-star event, whereas the Pan-Pacs is a six-star event.
As you may have guessed, the more prestigious a tournament, the more stars it is assigned. As a result, competitors are motivated to do well at the big (four five or six star) events.
Competing in Brazilian Jiu-Jitsu in Queensland
BJJ tournaments on the Queensland Brazilian Jiu-Jitsu Circuit (QBJJC) are held all over the state. From February to November each year there is a state level event almost every month.
Travelling to every event is a little beyond most competitors. Guys like Ronaldo and Dean need to plan which tournaments they will compete in since going to them all isn't realistic. Time, money and the physical distance to some of the locations can stretch anyone's resources.
Both guys spent considerable time and money travelling to tournaments in 2018, included the Pan-Pacs titles held in Melbourne back in November. As an internationally recognised event, the Pan-Pacs points are included in state rankings, even though it is held interstate.
Ronaldo and Dean are currently BJJ blue belts. Blue belt is a very busy rank at tournaments wherever you go with lots of competitors entering at this level.
Suffice to say, Ronaldo and Dean had a lot of BJJ fights on competition mats on 2018.
Does competing help you improve your BJJ?
You can see the effect that competing has on the development of a person's Jiu-Jitsu. They clearly develop their skills faster than someone who trains but never competes.
Think about your own Brazilian Jiu-Jitsu approach. By facing opponents that you may have never rolled with, your skills get put to the ultimate test. Win or lose; you are forced to reassess about your BJJ game.
Good luck this year boys!
So a HUGE congratulations go to Dean and Ronaldo. Your effort has been rewarded, and you continue to inspire other CAZA BJJ members, young and old, to follow in your footsteps.
If you decide to go after it again this year, the whole CAZA team will be right behind you once more!