The 2018 IBJJF Asian Championship was held recently on the 7th, 8th and 9th of September in Tokyo, Japan.
This tournament represents an especially important milestone for our CAZA Brazilian Jiu-jitsu team and head coach Yoshi Hasegawa. It was the first time that CAZA members have competed at an international Brazilian Jiu-jitsu tournament outside of Australia. It was also an opportunity for coach Yoshi to take some of the team back to his home city of Tokyo and show everyone how far his BJJ team has come.
The Tokyo Budo-Kan venue is absolutely amazing. It's a stadium that is perfect for a BJJ tournament of this size where competitors are made to feel like the serious athletes that they are. The event's organisation was professional and well managed throughout the three days, so congratulations to the IBJJF staff.
Competing CAZA BJJ members and results
The Brazilian Jiu-jitsu competitors that represented CAZA BJJ in Tokyo were:
Cheyne Douglas (brown belt)
1st – Brown / Master 2 / Male / Super-Heavy




Steven Kelly (purple belt)
1st – Purple / Master 6 / Male / Light
2nd – Purple / Master 6 / Male / Open Class




Mark Edwards (blue belt)
3rd – Blue / Master 3 / Male / Feather




Reece Purser (blue belt)
2nd – Blue / Master 4 / Male / Middle



See the full list of 2018 IBJJF Asian Championships results.
We often talk about the experience gained by competing in tournaments. For the guys that committed to flying to Tokyo for a roll in this one, you have certainly taken a big step forward in your Jiu-jitsu growth. Keep moving forward, growing and sharing your experience with the members here at home.
Special thanks to Carpe Diem & MaxJJ gyms
Leading up to the Asian Championship tournament and for a number of training sessions soon after, the CAZA team trained at the renowned gyms of our friends. Carpe Diem owner Yuki Ishikawa is a long time friend of CAZA head coach Yoshi Hasegawa. Another friend of Yoshi's, Max Masuzawa, also hosted several training sessions at his gym MaxJJ.
We would like to thank both clubs and their teams for their hospitality and for looking after us while in Tokyo. We look forward to seeing you all again in the future, especially at the CAZA BJJ gym here in Noosa Heads, Australia!
And what about the CAZA supporters?!
Despite being a long way from our Sunshine Coast headquarters in Noosa, a contingent of CAZA family, friends and members made the trip to Tokyo to support the competitors. This is one of the reasons why our gym has such a great vibe. Family and friends are an important part of our extended team so it was great to see familiar faces in the crowd.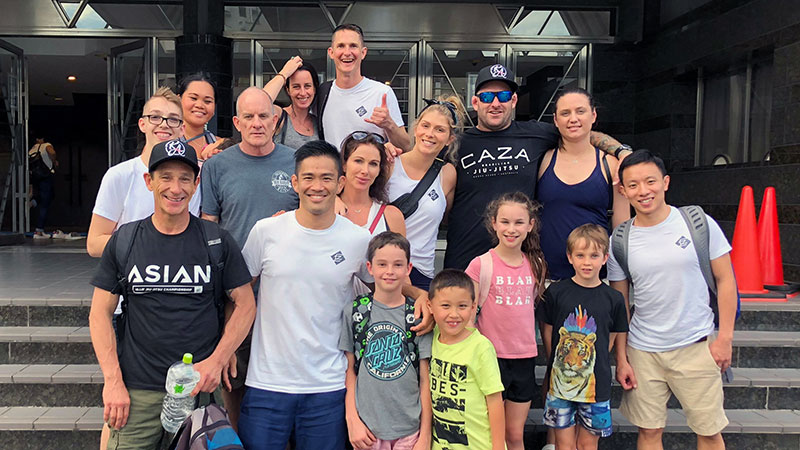 Thanks to everyone who made the trip, including Jason See from Australia and Big Joe who flew in from South Korea to hang out with our crew. We know you had a great time in Japan and we look forward to our next overseas jaunt with you.