The CAZA crew has just returned from the 2019 IBJJF Pan Pacific Championship and the results are awesome!
The men's team competitors for CAZA included Cheyne Douglas, Alex Watson, Dean M, Dean Milbank and Dan Hannay. This is a formidable bunch who are a real handful on the mats.
In the kid's competition, we had Jayden Koh, Kayden Koh, Daniel Svoboda and Jayden Kimber. These four are regular competitors for CAZA and have won numerous titles already.
While a relatively small team, every one of these competitors is a serious contender for a medal at any Brazilian Jiu-Jitsu tournament.
The Pan Pacs is organised into three separate tournaments: gi, no-gi and kids. Only Dean M and Dan Hannay entered the no-gi event with the rest of the team focusing on the gi tournament.
Dean always enters four divisions: ultra-heavy gi, ultra-heavy no-gi, open-weight gi and open-weight no-gi. This is a demanding assignment, but he has been doing this with great success for some time now. Dean uses a ton of pressure to overwhelm opponents and he applied this strategy again to win 4 medals, including gold.
As a team, CAZA BJJ did very well winning a total of 3 gold medals, 5 silver medals and 2 bronze medals.
Adult Male Gi Results
Master 1 / Male / Purple / Middle
Silver – Alex Watson
Master 2 / Male / Blue / Ultra-Heavy
Silver – Dean M
Master 2 / Male / Blue / Ultra-Heavy
Silver – Dean M
Master 2 / Male / Brown / Ultra-Heavy
Silver – Cheyne Douglas
Adult Male No-Gi Results
Master 2 / Male / Blue / Ultra-Heavy
Gold – Dean M
Master 2 / Male / Blue / Open Class
Bronze – Dean M
Kids Gi Results
Pee-Wee 3 / Male / Grey / Light
Silver – Daniel Svoboda
Junior 1 / Male / Yellow / Light
Bronze – Jayden Robert Kimber
Junior 2 / Male / Yellow / Light-Feather
Gold – Kayden Koh
Teen 3 / Male / Orange / Ultra-Heavy
Gold – Jayden Koh
CAZA Brazilian Jiu-Jitsu's members have an enthusiasm for submission hunting. This was evident at the Pan Pacs where few of our competitors bothered to look at the scoreboard during their fights. A points lead is nice, but a submission is much better, especially considering that a 'refs call' decision can often be surprising.
As a brown belt, Cheyne Douglas was the highest-ranked member from CAZA to roll. After winning his first fight by submission, Cheyne eventually went on to win silver. Big brown belts are a dangerous proposition so getting silver at the biggest tournament in Australia is a brilliant result.
Alex Watson took out his first two opponents by submission – a loop choke in the first round and then an armbar in the second. Alex has become a brilliant fighter off the ground by countering attacks. His strength and controlled aggression were on full display this year, getting him into the final where he won a well-deserved silver medal.
Dean Milbank suffered a serious injury during his first match which forced him to withdraw mid-match as he could clearly no longer continue. He did try to fight on but there was no denying this type of pain and so was unable to finish the fight. He knew something was wrong when he felt what he believed was a dislocated elbow. It turns out that the injury was more serious than that. Dean's report from the hospital in Melbourne stated that "the tricep is detached, pulling a chunk of bone away with it and has an avulsion fracture of the ulnar collateral ligament". This will require surgery to correct, so Dean is now in line for two operations.
Dan Hannay was also rolling this year at purple belt level in gi and no-gi. After winning his first fight by submission, Dan went on but lost on points in his second fight. The standard was high in Dan's division so while he is disappointed, he can still be proud of his performances (and that nice kimura submission). He wasn't even sure if he would be able to compete the day before the tournament as he was suffering a painful ear infection. Dan saw a doctor after landing in Melbourne and went straight on to medication and pain killers, which were effective enough to allow him to compete. In the end, he lost to a world champion by points in a great fight.
As CAZA BJJ continues to grow we will be able to start mounting a challenge for overall team titles at the IBJJF Pan Pacs. We have a high percentage of competitors amongst our membership so it is only a matter of getting more members down to Melbourne to take part.
CAZA Kids Amongst The Medals
Head coach Yoshi Hasegawa is extremely proud of all four of our kid's team entrants with each making it onto the podium. The Koh brothers, Jayden and Kayden, took home gold while Daniel Svoboda and Jayden Kimber won silver and bronze respectively.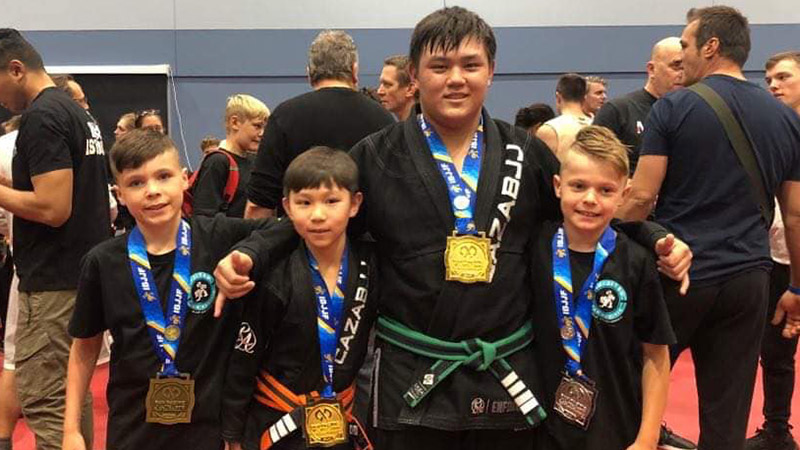 As with our adult competitors, these boys are submission hunters. Stalling for time is not their way so if they can take you out with a submission, you are done.
We truly believe that in time one of these boys wins a world title. Perhaps all four, eventually. They train hard while competing as often as they can and the results speak for themselves.
IBJJF Pan Pacs 2020
Next year we will be sending a bigger team to the Pan Pacs for both the adults and kids tournaments. We also hope to get some of the women's team down there too since they are all doing very well on the Queensland Brazilian Jiu-Jitsu Circuit.
Congratulations to all of our competitors and thanks to the parents and supporters who also travelled down to Melbourne to cheer on our team. We will have another run at this championship next year and we are sure that the medals will be heading back to the Sunshine Coast once more.