The year 2020 will go down as one of the most challenging on record for both sporting and business endeavours. Closures followed by highly restrictive limitations placed an incredible amount of pressure on BJJ gyms across Australia. Despite all this, we have managed to finish the year on a huge high with our only grading ceremony having taken place on Saturday, December 12.
It will take more than a global pandemic to stop CAZA's momentum!
Andy Flynn Promoted to Black Belt
The highlight of this year's ceremony was the promotion of Andrew Flynn to black belt. Andy is one of Yoshi's original students, going back to when Yosh first came to Australia to teach Brazilian Jiu-Jitsu.
Andy is an ideal club member. Humble, hard-working and always willing to help anyone who seeks his advice. If you have any doubts as to his ability, well, roll with him. You are in for a tough six minutes.
In accepting his black belt, Andy reiterated a point made by Yoshi, Cheyne and numerous other black belts around the world with regard to what it takes to achieve this rank. Simply put, "keep coming back, there are no shortcuts".
Full List  of Promoted Members
There were a total of 26 adult members promoted to new colour belts plus another 6 teenage members promoted to various green belts.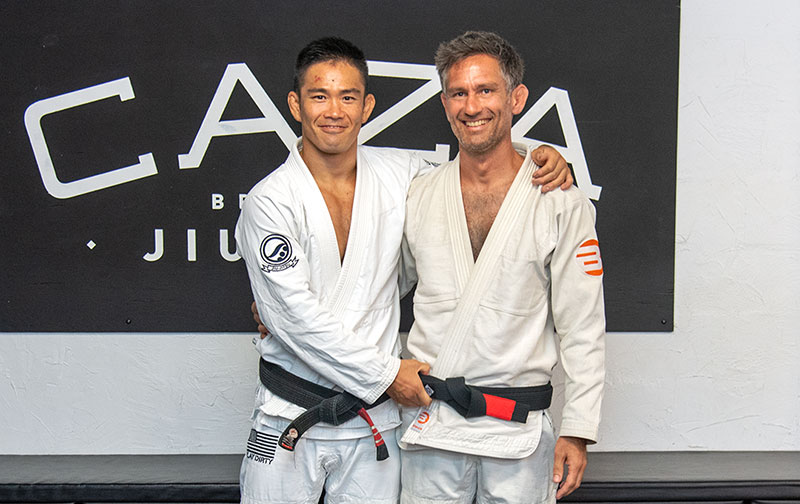 Andrew Flynn promoted to black belt.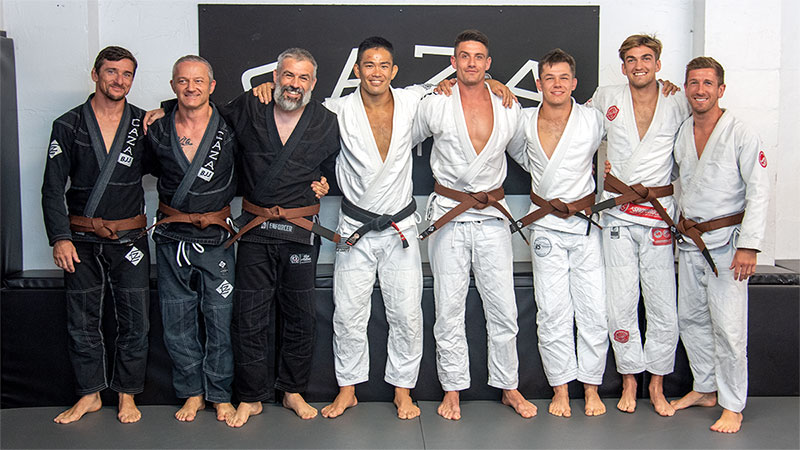 Kristien Cook, Paul Browning, Adam Stanecki, Alex Watson, Dan Hannay, Erik Van Der Kallen and Craig Rolleston promoted to brown belt.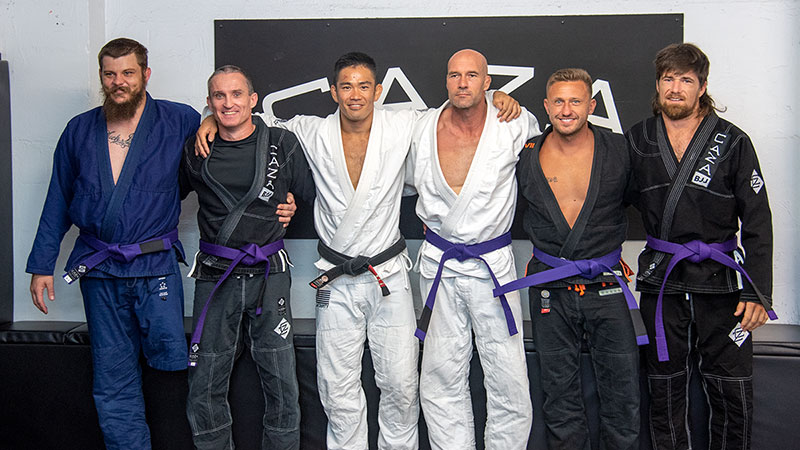 Jedadiah Gray, Justin Taylor, Dean Milbank, Mirza Mahil and Rhett Wilson promoted to purple belt.
Amy McManus also promoted to purple belt (Monday night).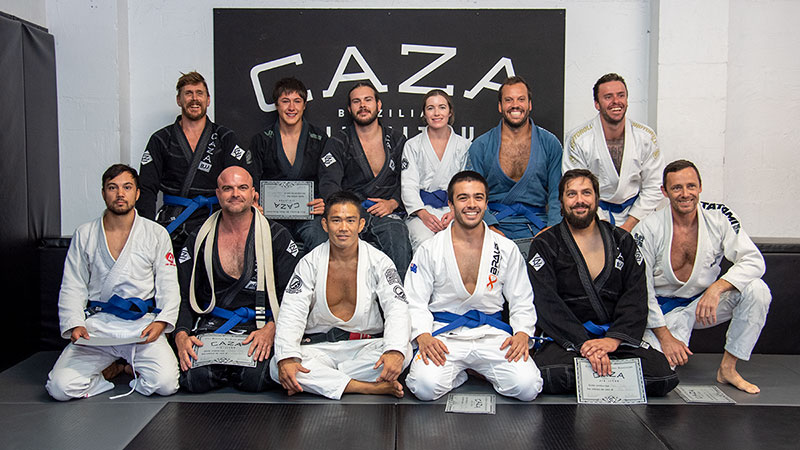 Kristian Minjon, Taj Marsh, Jay Schuweker, Caitlyn Edwards, Bruno Saraiva Corrêa da Silva, Scott Preston, Frederick Thompson, Andrew Shea, Luigi Dall'Igna Ribeiro, Mark Tuke, Daniel Mellor, Marco Roberts Del Castillo (not pictured) and Jayden Koh (not pictured) promoted to blue belt.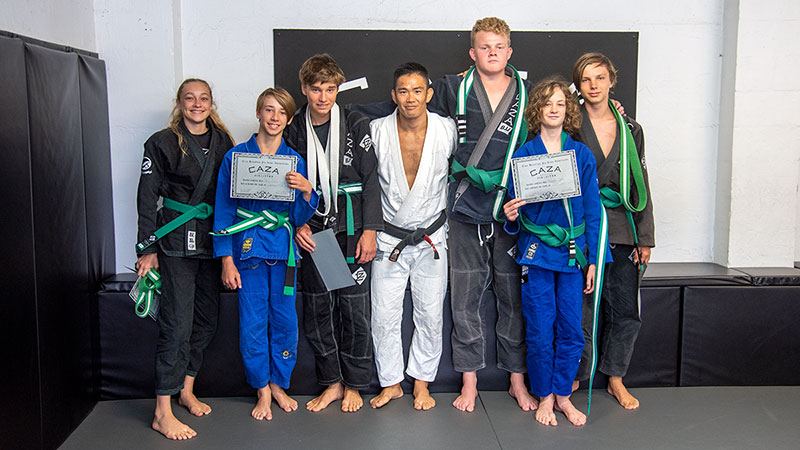 Bronte Wilson, Van Davis, Jonathan Douglas, Jasper Dokon, Alexander Smith and Noahkin Hopkins promoted to green & white-green belts.
Congratulations to all of these members! You really need to earn your belt promotions at CAZA so be proud of what you have achieved. Now keep on grinding towards your next goal.
Shark Tanks Are Coming
We didn't have a shark tank at this grading due to the number of people being promoted and our limited space. These will instead be held at various open mat sessions over the coming weeks.
When we do run a shark tank, please be sensible. We don't want any injuries to stem from what should be a fun part of the promotion process.
Know Our Gym Rules
As mentioned by Yoshi at the grading, we ask that all members learn CAZA's gym rules. These rules are fairly standard for all Brazilian Jiu-Jitsu gyms. By being aware of what is expected it will also prepare you to be a good guest when visiting other clubs.