CAZA Brazilian Jiu-Jitsu's mid-year adult grading day (Noosa gym) was held yesterday with a large number of our members in attendance to celebrate. A belt promotion is not easy to achieve in BJJ, so congratulations is certainly in order for anyone passing a belt milestone.
Let's see who has been promoted…
Black belt

John Bennett & Yoshi Hasegawa
There was one member promoted to black belt at this ceremony. He may not completely agree with us mentioning this but John Bennett is our oldest member who only recently recovered from hip replacement surgery. John is proof that age doesn't have to be a barrier for anyone who can stay fit and dedicate themselves to their training.
John is already well known in the Judo world. As a Judo coral belt he has proven himself over many decades in combat sport, persevering through the injuries. The addition of a Brazilian Jiu-Jitsu black belt to his list of accomplishments sets the bar quite high for anyone wanting to follow in his footsteps.
Brown belt

Dean Milbank, Yoshi Hasegawa & Sam Morrison
(Dean Middleton not pictured)
Three members were promoted to brown belt this time around: Dean Milbank (a Judo black belt), Sam Morrison (also a Judo black belt) and Dean Middleton (former QBJJC season points champion). Brown belt is a tough rank to reach but these three guys are undoubtedly deserving of their promotions.
Congratulations guys. Next stop is the elusive black belt, but we have no doubt that you'll grind out the next few years and reach that goal too.
Purple belt

Yoshi Hasegawa & Caitlyn Edwards
A single purple belt was awarded at this grading and it went to Caitlyn Edwards. Caitlyn received quite a cheer when Yoshi called her name which was testament to both her popularity in the gym and to her significant BJJ skill. She is also an experienced competitor and a senior female role model in our gym.
Well done Caitlyn.
Blue belt

Melissa Fleming, Adam Neilson, Jyssica Lian, Yoshi Hasegawa, Derek Cavanagh, Luis Bachman, Jadine Hanys & Ashton Symmonds
(Mark Evans not pictured)
Getting a blue blue belt is a special moment and probably second only to black belt in terms of excitement. White belts come and go but in achieving your blue belt you have demonstrated that you are serious about learning BJJ. This bunch have shown they are willing to commit to the sport and have been recognised by our coaches as ready for the next step.
Keep the momentum up everyone. And watch those wrists!
Kids belts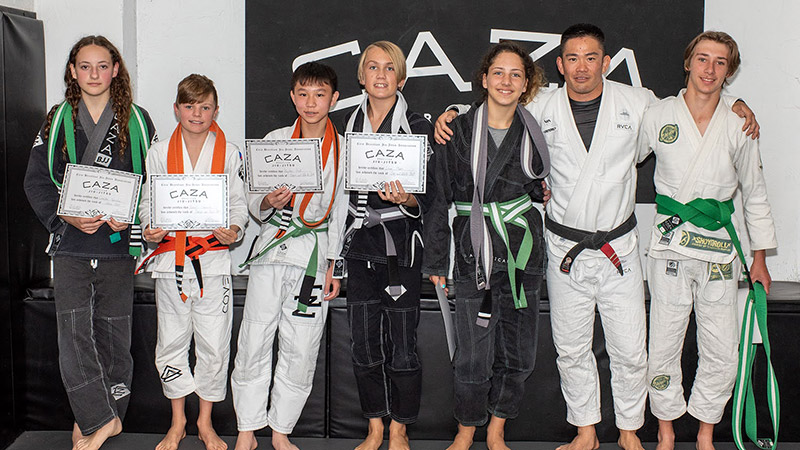 Carolina Vanselow, Daniel Svoboda, Kayden Koh, Liam Hann, Eva Flynn, Yoshi Hasegawa & Van Davis
We have a number of teenage members who train with the adults. These members are usually too big and/or too advanced to train in a kids class. As such, this bunch are also graded with the adults.
There are a lot of us who are jealous of this crew. They have started early and are getting a huge head start on others their age who will one day take up Brazilian Jiu-Jitsu at a later stage in life.
Well done guys and girls. It can be tough training hard while also managing your school work but we are sure you can manage.